How to get help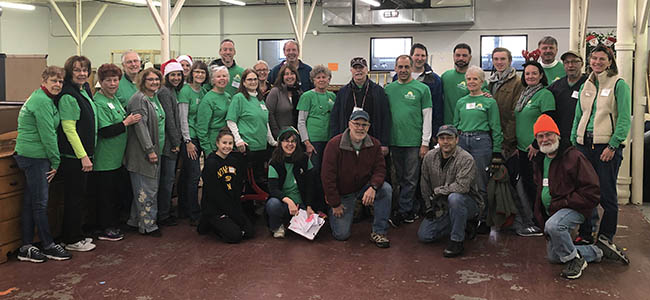 Obtaining a Referral
If you need furniture or household goods, you must go to one of the following agencies and have them submit an on-line referral.
You may only receive 1 referral over your life-time. This referral is valid for 30 days.
An appointment needs to be scheduled before you can come in. Your agency can do this or you can do it via text message.
If necessary, you can come in 1 time for household-goods/linens and then come back for furniture, but most people visit only once.
When you come to our store, you will be handed a tablet which will allow you to virtually shop for your items.
A personal shopper will help you select the items that you need. It takes at least an hour to do this.
We stock sofas, upholstered chairs, dressers, beds, night stands/end tables, kitchen tables & chairs, cabinets, shelves, pots, pans, dishes, linens, small appliances and many other items.
We do not stock TVs or large appliances.
You should arrive at the store at least 15 minutes before your appointment.
If possible, do not bring children.
Everyone in your group needs to wear a mask.
If you do not speak English, please bring an adult who can interpret for you.
We do not provide a delivery service.
Everything must be taken on the day you come in. Please be sure to bring a vehicle large enough to take all of the furniture that you need.
A 15 foot box truck is recommended.
Pick-up trucks, vans, and even a 10 foot box truck will greatly limit what you can get.
Our volunteers will load your vehicles.
Please view our customer policies, which can be translated into Spanish or Portugese.
If you need help after reading the customer policies, click here to contact us.
Click here to see our inventory
Agencies that can provide referrals

Putnam, CT


Generations Family Health Center - 202 Pomfret Street - 860-963-7917

Acton, MA


Town of Acton - 472 Main St - 978-929-6651
Town of Acton Dept of Veterans' Services - 30 Sudbury Rd - 978-929-6614

Allston, MA


Vinfen - 250 Lincoln St - 617-232-2165

Amherst, MA


Family Outreach of Amherst - 401 Main St #12 - 413-549-5548

Arlington, MA


Arlington Department of Veteran Services - 730 Massachusetts Avenue - 781-316-3166
Department of Children and Families - Arlington - 30 Mystic Street - 781-641-8500

Ashburnham, MA


Ashburnham COA - 32 Main St - 978-827-4100 ext 123
Ashburnham Council on Aging - 32 Main St, 2nd Floor - 978-827-5000

Ashland, MA


Ashland Department of Human Services - 162 West Union Street - 508-532-7942
Ashland Youth and Family Services - 162 West Union Street - 508-881-0140 ext 3
Home2Homes - 135 America Blvd - 508-333-5275
SMOC - Shadows Shelter - 25 Central Street - 508-231-8710

Athol, MA


Athol Housing Authority - 21 Morton Meadows - 978-249-4848
CleanSlate - 201 S Main St, Suite 3 - 978-248-0442
Valuing Our Children Family - 217 Walnut St, 423 Main St Athol MA. - 978-249-8467

Auburn, MA


Auburn Youth and Family Services - 21 Pheasant Court - 508-832-5707
SPOONER GUARDIANSHIP SERVICES - 482 Southbridge St, Unit 384 - 508-603-2138

Bedford, MA


Caritas Communities - 204 Springs Rd bldg 5, 204 Springs Road Building 5 - 781-917-4083
Department of Veteran Affairs - VASH - 200 Springs Road - 781-879-5458
Department of Veteran Services, Bedford - 12 Mudge Way - 781-275-1328

Belmont, MA


Belmont Housing Authority - 59 Pearson Rd - 617-484-2160
McLean Hospital - 115 Mill St. - 617-855-3765

Berlin, MA


Berlin Family Food Pantry - 23 Linden St - 978-838-2508 ext 82508

Beverly, MA


Family Promise North Shore Boston - 8 Rantoul St - 978-922-0787
Pathways For Children - 292 Cabot St. - 978-236-4101

Boston, MA


ABCD - 565 Warren St - 617-442-5900 ext 201
Bay Cove - 8 Woodward Park St - 617-878-2461
Bay Cove Human Services - 66 Canal St, #2 - 617-371-3000
Bay Cove Human Services - 1500 Dorchester Ave - 617-237-6550
BIDMC, Center for Violence Prevention and Recovery - 330 Brookline Ave - 617-667-8240
Boston Center For Independent Living - 60 Temple Place - 617-338-6665
Boston Childrens Hospital - 300 Longwood Ave - 617-355-7701
Boston Medical Center - GROW Clinic - 771 Albany Street - 617-414-5251
Boston Medical Center - HOPE Project - 850 Harrison Ave - 617-638-8000
Boston Medical Center - Project Respect - 850 Harrison Ave, Fl 5 - 617-414-2593
Boston Medical Center - Shapiro Center - 725 Albany St - 617-414-5951
Boston Medical Center - VIAP - 850 Harrison Ave - 617-414-4926
Boston Medical Center- Roundhouse - 891 Massachusetts Ave - 617-752-2523
Breaktime - 170 Portland St - 617-286-6047
Bridge Over Troubled Waters - 47 West St - 617-423-9575
BWH Jen Center for Primary Care - 75 Francis St - 617-525-8910
Casa Myrna - 38 Wareham st - 617-642-6070
Casa Myrna - 452 Blue Hill Avenue, 1 - 781-805-0596
Casa Nueva Vida,Inc - 53 Grotto Glen Rd - 617-477-3976 ext 113
Catholic Charities - 275 W Broadway - 617-464-8500
Center for Violence Prevention and Recovery - 330 Brookline Ave - 617-667-8241
Center for Violence Prevention and Recovery - 330 Brookline Ave - 617-667-8141
Central Boston Elder Services - 2315 Washington St - 617-277-7416
Children Advocacy Center of Suffolk County - 989 Commonwealth Ave - 617-779-2146 ext 2148
Commonwealth Community Care - 30 Northampton St - 617-433-9601
Community Resources for Justice - 107 Park Dr - 617-867-0300 ext 216
compass - 294 Bowdoin St - 857-220-2333
Compass Working Capitla - 89 South St Suite 804, 8 - 781-488-6623
CPCS - 75 Federal St, 6th Floor - 617-209-5595
Crossroads Family Center - 56 Havre St - 617-567-5926
Dana-Farber Cancer Institute - 450 Brookline Ave - 617-632-3000
DaVita Dialysis - 660 Harrison Ave - 866-544-6741
Department of Children and Families - 30 Dimock St - 617-989-2866
Department of Developmental Services - 65 Sprague St B - 617-363-2900
Department of Public Health- FOR Families - Boston - 250 Washington Street - 617-624-6000
Determined Divas - 25 River St - 857-301-5285
East Boston Neighborhood Health Center - 10 Gove St - 617-568-4485
Economic Mobility Pathways (EMPath) - One Washington Mall, 3rd Floor - 857-401-2320
Economic Mobility Pathways - Perthshire Rd - 10 Perthshire Road - 617-782-7600
Fathers Uplift Inc - 100 Warren St - 617-708-0870
Fenway Health - 1340 Boylston St - 617-267-0900
Franciscan Children's Hospital - 30 Warren St - 617-254-3800
Greater Boston Legal Services - 197 Friend St - 617-371-1234
Hearth, Inc - 1640 Washington St - 617-369-1550
HomeStart - 105 Chauncy St, 5th Floor - 617-542-0338
HSNHC Veterans Outreach Center - 895 Blue Hill Avenue - 617-514-2678
Jeremiah-Endicott - 130 Warren St - 617-413-9779
Justice Resource Institute - Boston - 3312 Washington St, Dimock CSA - 617-522-0650
Lena Park CDC - 150 American Legion Hwy - 617-533-8133 ext 13
Mass General Hospital, Social Service Dept - 55 Fruit St, WAC 037 - 617-726-2653
Mass. Rehabilitation Commission/Home Care Assistance Program - 600 Washington St - 617-204-3853
Massachusetts General Hospital - Fruit St - 55 Fruit St., WAC-037 - 617-726-2643
Metro Housing Boston - 1411 Tremont St - 617-859-0400
Neighborhood Health Plan - 253 Summer St - 800-433-5556
Neighborhood of Affordable Housing - 143 Border St - 617-567-5882
Nuestra Communidad CDC - 56 Warren St - 617-427-3599
Office of Housing Stability - 9th St - 617-635-0401
Project Access at Roxbury Community College - 1234 Columbus Ave, Admin Building- 2/101 - 617-933-7459
Project Place - 1145 Washington St - 617-542-3740
Rehabilitation & Health, Inc. ( East Boston Rehab) - 52 White St - 617-569-8222
Roca, Inc - 845 Albany St - 617-992-8237
Rosie's Place - 889 Harrison Ave - 671-442-9322
South Bay Community Services Mental Health - 415 Neponset Ave - 857-217-3700
South Boston Community Health Center - 409 W Broadway - 617-269-7500
South End Health Center - 1601 Washington St - 617-425-2027 ext 7656
St Francis House - 39 Boylston St - 617-654-1239
St Mary's center for woman and children - 90 Cushing Ave - 617-436-8600 ext 237
Suffolk County District Attorney's Office - 1 Bulfinch Place - 617-619-4136
The Dimock Center - 45 Dimock St - 617-442-8800
The Home for Little Wanderers Family Resource Center - 780 American Legion Hwy - 617-469-8501
The Network/La Red - 989 Commonwealth Avenue - 617-695-0877 ext 117
The New England Center For Homeless Veterans - 17 Court St. - 617-371-1800
Tufts Medical Center - 850 Washington St - 617-636-5000
Uphams Corner Health Center - 415 Columbia Rd - 617-287-8000
Veterans Upward Bound - 73 Tremont St - 617-725-4110
Women's Lunch Place - 67 Newbury Street - 857-707-6772

Boxborough, MA


Town of Boxborough - 29 Middle Rd - 978-264-1730

Braintree, MA


Department of Children and Families - Coastal - 220 Rear Forbes Rd - 781-794-4400
Dianne DeVanna Center - 74 Pond St - 781-843-7010
Mass General Brigham Homecare - 45 Rockdale St, Suite 100 - 781-330-7846

Brighton, MA


Brighton Marine - 77 Warren St, 7th Floor - 617-208-6225

Brockton, MA


BAMSI - 722 Belmont St - 774-296-8242
Brockton Neighborhood Health Center - 63 Main St - 508-894-3460 ext 460
Brockton Public Schools Family Advocacy and Engagement Center - 60 Crescent St - 508-580-7508
Father Bill's & MainSpring - Brockton - 460 Belmont St., 2nd FLR - 508-427-6448
Health Imperative - 942 West Chestnut St - 508-588-2045
High Point Treatment center - 30 Meadowbrook Rd - 508-408-6148 ext 6148
New Beginnings Reentry Services, Inc - 32 Shaw Rd - 857-258-5052
Old Colony Elder Services - 144 Main St, Suit 2 - 508-584-1561
The United Way of Greater Plymouth County-Family Center - 1367 Main St - 508-857-0272
Veterans Affairs - Brockton - 940 Belmont St - 508-583-4500

Brookline, MA


First Presbyterian Church in Brookline - 32 Harvard Street - 617-232-7962

Burlington, MA


Department of Children and Families - 328 Cambridge St - 617-520-8700
Saheli Boston - - 866-472-4354

Cambridge, MA


American Red Cross of Massachusetts - 139 Main St - 508-735-7197
Cambridge Health Alliance - ICA - 1493 Cambridge St, Macht 227 - 617-665-1208
Cambridge YWCA - 7 Temple St - 617-491-6055
Just-A-Start - 1035 Cambridge St, Suite 12 - 617-494-0444
Riverside Community Care - Cambridge - 5 Sacramento St. - 617-354-2275
Transition House - PO Box 392016 - 617-868-1650
Vinfen Corporation - 950 Cambridge St - 617-441-1800

Canton, MA


Department of Public Health- FOR Families - Canton - 5 Randolph St - 508-380-4422
Salvation Army - 25 Shawmut Rd - 339-502-5900

Charlestown, MA


Commonwealth Care Alliance - 529 Main St, Suite 222 - 866-610-2273
Heading Home Inc - 529 Main St #100, The Schrafft Center - 617-304-9157
Massachusetts General Hospital Charlestown HealthCare Center - 73 High St - 617-724-8167

Chelsea, MA


Department Children and Families - 80 Everett Avenue - 617-660-3425

Clinton, MA


Clinton Council on Aging - 271 Church St - 978-733-4747
WHEAT Community Connections - P.O. Box 847, 272 High Street - 508-370-4943

Concord , MA


Aware Recovery Care - 9 Pond Lane Suite 105 - 617-430-4949

Concord, MA


Domestic Violence Services Network - - 978-318-3421

Dedham, MA


HopeWell Inc - 3 Allied Drive, 308 - 617-629-2710
Riverside Community Care Connect2Recovery - 270 Bridge St, Suite 301 - 781-234-1650
Steward Health Care Network - 888 Washington street - 781-375-7263

Devens, MA


Clear Path for Veterans New England - 84 Antietam St - 978-384-8800

Dorchester, MA


Department of Children and Families - Dorchester - 50 B Park Street - 617-822-4700
DotHouse Health - 1353 Dorchester Ave - 617-288-3230
Louis D. Brown Peace Institute - 15 Christopher St - 617-825-1917 ext 115
Middlesex Human Service Agency, Inc - Dorchester - 564 Dudley Street - 617-445-0869
Quincy Geneva Housing Corp - 320-B Blue Hill Ave, 392 Warren street - 617-442-5711

Dorchester Center, MA


Brookview House - 2 Brookview St - 617-265-2965

East Bridgewater, MA


Independence Associates - 100 Laurel Street, Ste 122 - 508-583-2166

Fall River, MA


Department of Mental Health ACCS - 49 Hillside St - 508-235-7200
Family Service Association - 101 Rock St - 508-678-7542
JRI- Children's Advocacy Center of Bristol County - 58 Arch St - 508-674-6111
Justice Resource Center (FOCUS Program) - 99 S Main St - 978-447-3038
Southeast Center for Independent Living - 66 Troy St 1st Floor - 508-679-9210
SSTAR Care Community Partners - 1700 President Ave - 774-301-8274

Fitchburg, MA


America's Youth Teenage Unemployment Reduction Network (MY TUR - 14 Summer St - 978-345-1092
LUK - 99 Day St - 978-829-2427
MOC Fitchburg Family Resource Center - 49 Nursery Ln 2nd fl - 978-516-5044
Our Father's House - 55 Lunenburg Street, PO Box 7251 - 978-855-5184
Seven Hills Family Services - Fitchburg - 1460 John Fitch Highway - 978-602-8697
Three Pyramids Inc - 356b Broad St., 4th floor - 978-235-0742

Foxborough, MA


Veterans Services - Foxborough - 40 South Street - 508-543-1204

Framingham, MA


Advocates, Inc. - 1 Clark Hill - 1 Clarks Hill - 508-628-6448
Advocates, Inc. - BHJI - 1881 Worcester Rd - 508-628-6300
Advocates, Inc. - Elder Services - 354 Waverly St - 508-661-2020
Advocates, Inc. - Framingham - 1881 Worcester Rd, Suite100 - 774-217-8037
Advocates, Inc. - Hudson ITO - 1881 Worcester Rd - 508-628-6300
Advocates, Inc. - Integrated Care - 1881 Worcester Road - 774-270-3914
Advocates, Inc. - Outreach - 1881 Worcester Rd., Suite 100 - 774-270-2263
Advocates, Inc. - Peer Support Group - 284 Union Ave, The Living Room - 508-848-9310
Advocates, Inc. - Waverly St - 354 Waverly St. - 508-661-2020
Angel's Dream/Framingham Spanish Seventh Day Adventist Churc - 305 Hollis St - 508-314-8000
Bethany Hill Place - 89 Bethany Road - 508-270-8001
Criterion Middlesex Early Intervention - 651 Franklin St - 508-620-1442
Crossroads Community Church - 1341 Edgell Road - 508-877-7733
Department of Children and Families - Framingham - 300 Howard St - 508-424-0100
Department of Developmental Services - Framingham - 300 Howard Street, First Floor - 508-261-2211
Department of Transitional Assistance - Framingham - 300 Howard Street - 508-661-2303
Edmands House - 15 Edmands Road - 508-283-7475
Framingham / Waltham WIC Program - 300 Howard St. - 508-620-1445
Framingham Council on Aging/Callahan Center - 535 Union Ave - 508-532-5980
Framingham Family Resource Center - Wayside Youth and Family Support, 88 Lincoln Street - 508-469-3211
Framingham Housing Authority - 1 John J Brady Dr - 508-879-7562 ext 218
Framingham Public Schools - 75 Mt Wayte Ave - 508-782-6894
Jewish Family Services MW - 475 Franklin St, Suite 101 - 508-875-3100 ext 300
JRI - Developing Abilities - 1671 Worcester Road, Suite 100 - 508-561-0548
JRI Health / Program RISE - 29 Hollis Street - 508-935-2960
Juniper Hill School - 29 Upper Joclyn Ave - 508-782-6975
MAPS - Framingham - 24 Union Ave, Suite 10 - 508-852-2675
MassHire Metro South/West Employment and Training Administrati - 1671 Worcester Rd, Suite 108 - 508-251-0223 ext 3
Medical Community Services - 264 Union Avenue, Suite 3 - 508-309-4897
MetroWest Center for Independent Living - 280 Irving St - 508-875-7853
MetroWest Legal Services - 63 Fountain St, Suite 304 - 508-620-1830 ext 249
MetroWest Medical Center - Cancer Care - 99 Lincoln St - 508-383-8529
Pelham Lifelong Learning Center - 103 2nd St - 508-879-5484
RIA, Inc - 330 Cochituate Rd #1784 - 774-245-9153
Saint Vincent de Paul Conference St. George Church - 74 School St - 508-877-5130
SMOC - Behavioral Health - 298 Howard st, #100 - 508-879-2250
SMOC - Clinton House - 61 Clinton Street - 508-620-2694
SMOC - COE House - 228 Concord St - 508-424-5066
SMOC - Common Ground - 300 Howard Street - 508-620-2484
SMOC - Community Support Program - 7 Bishop Street, CSP 2nd Floor - 508-879-2253
SMOC - Drop In Center - 62 KENDALL ST - 508-620-2413
SMOC - Emergency Family Shelter - 46 Gordon Street - 508-405-2455
SMOC - Family Programs - 300 Howard Street - 508-620-2401
SMOC - Framingham - 7 Bishop St - 508-620-2616
SMOC - FSS - 7 Bishop Street - 508-620-2335
SMOC - HCEC - 7 Bishop St - 508-872-6098
SMOC - Headstart - 300 Howard St - 508-820-8380 ext 253
SMOC - HOPWA - 7 Bishop st - 508-620-2399
SMOC - Housing Stabilization - 7 Bishop St. - 508-872-4853
SMOC - New Beginnings - 89 Bethany Rd., #108 - 508-370-3968
SMOC - Pathways Family Shelter - 248 Edgell Rd - 508-879-5047
SMOC - Pay For Success Program - 7 Bishop Street -
SMOC - Pearl St - 70 Pearl street - 508-620-2868
SMOC - Sage House - 517 Winter St - 508-626-2586
SMOC - Scattered Side Projects - Framingham - 7 Bishop St - 508-872-4853
SMOC - Serenity House - 228 Concord St - 508-620-2510 ext 207
SMOC - Voices Against Violence - 300 Howard Street - 508-820-0834 ext 111
South Bay Community Services - 1 Grant St, Suite 190 - 508-834-3100
Southborough Medical Group Pediatrics - 761 Worcester Road, 4th floor - 508-872-1260
St. Vincent de Paul Society - Saint Stephen Parish - 221 Concord St - 508-202-0730
The Latino Health Insurance program - 88 Waverly St - 508-875-1237
Town of Framingham, Veteran Services - 150 Concord St, Room B-11 - 508-532-5515
Wayside Youth and Family Support Network - 1 Frederick Abbott Way, 88 Lincoln St. - 508-620-0010
WIC - Framingham, Marlboro, Waltham - 300 Howard St. - 508-361-4167

Gardner, MA


Gardner Emergency Housing Mission - 627 Green St - 978-632-2271
Veteran Homeastead Inc. - 3 Victory lane. - 978-632-1271
YOUINC Family Center - Gardner - 205 School Street - 978-630-4918 ext 32

Gloucester, MA


Gloucester Housing Authority - 259 Washington St, 1A Veterans Way - 978-281-4770 ext 126
Pond View Village - 23 Lepage Ln - 978-281-8181 ext 141
The Open Door - 28 Emerson Ave - 978-283-6776
Wellspring House - 302 Essex Avenue - 978-281-0767

Grafton, MA


Department of Mental Health-North Grafton - 40 Institute Rd - 508-887-1100
St. Vincent de Paul Society - Grafton - 17 Waterville St - 508-839-3993

Great Barrington, MA


Family Resource Center - Clinical and Support Options - 141 West Ave - 413-528-0298 ext 9504

Greenfield, MA


Clinical and Support Options - 1 Arch St - 413-774-1000 ext 2089
DIAL/SELF TeenLine - 16 Miles Street - 413-774-7054
Greenfield Housing Authority - 1 Elm Terrace - 413-774-2932 ext 212
Recover Project - 68 Federal St - 413-774-5489

Harvard, MA


Advocates, Inc. - Community Counseling - 257 Ayer Rd - 978-772-1846

Haverhill, MA


Veterans Northeast Outreach Center - 10 Reed St - 978-372-3626

Holden, MA


WHA Holden - 9 Flagler Dr - 774-366-6052

Holliston, MA


Holliston Pantry Shelf - 23 Water Street, PO Box 6662 - 508-429-5392

Holyoke, MA


Enlace de Familias - Family Resource Center - 301 Main St - 413-532-9300

Hudson, MA


Advocates, Inc. - Irving St - 8 Irving St - 978-562-6167
FSFB - 16 Brent Drive - 508-485-2080
Grace Baptist Church - 353 River Rd. - 508-562-8550
Hudson Health Department - 78 Main Street - 978-562-2020
Hudson Housing Authority - 8 Brigham Cir - 978-562-9268
Hudson Public Schools - 155 Apsley St - 978-567-6100
Hudson Senior Center - 29 Church Street - 978-568-9638
Hudson Veterans Services - 78 Main Street - 978-568-9635
Karen S Scafidi LMHC - 34 Pope St #5 - 978-875-0203
laura Booth test account - 17 Alan Rd - 978-618-6857 ext 123
St. Vincent de Paul Society - Hudson - 20 High St, St. Michael Parish - 978-562-9321
Willis House Shelter - 53 Church st - 978-562-2749

Jamaica Plain, MA


AIDS Action Committee - 75 Amory St - 617-437-6200
Brookside Community Health Center - 3297 Washington St - 617-522-4700
ETHOS (Southwest Boston Elder Services) - 555 Amory St - 617-522-6700
Stacey Kirkpatrick House - 461 Walnut Ave - 857-654-1000

Lawrence, MA


Family Continuity - 360 Merrimack St Building J #3 - 978-273-2613
Fidelity House CRC - 439 S Union St, Suite 401 - 978-685-9471
Greater Lawrence Family Health Center - 100 Water St, 34 Haverhill Street - 978-685-7663 ext 8585

Leominster, MA


Aging Services of North Central Mass - 680 Mechanic St - 978-466-5443
Catholic Charities - Leominster - 196 Mechanic Street - 978-840-0696
Community Health Link - 100 Erdman Way - 978-401-3823
Families and Communities Together - 100 Erdman Way - 877-240-2755
Ginnys Helping Hand - 52 Mechanic Street - 978-537-1387
Health Alliance Home Health & Hospice - 60 Hospital Rd - 978-728-0621
Leominster Office of Emergency Management - 37 Carter St - 978-534-7580
Leominster Veterans Services - 100 West St - 978-534-7538
North Star Family Services, Inc. - 758 Main St - 978-466-1704
Open Sky Community Services (formerly the Bridge & Alternative - 26 Main St - 774-804-1863
SMOC - Blue Goose Rooming house - 12-14 School Street - 978-868-2549
Veteran Homestead - 25 Grove Ave - 978-537-5843

Lexington, MA


Eliot Community Human Services - 186 Bedford Street - 781-861-0890
Town of Lexington Human Services Department - 39 Marrett Rd - 781-698-4840

Lowell, MA


Community Teamwork Inc. - 155 Merrimack St, 3rd Floor - 978-935-3935
Department of Children and Families - Lowell - 33 East Merrimack Street - 978-275-6800
Department of Veteran Services, Lowell - 276 Broadway Street, 2nd Floor - 978-970-4068
Lowell House Inc. - 101 Jackson St, 4th Floor - 978-770-8851
NAFI Family Resource Center - 27 Prescott St - 978-455-0701 ext 206
Northeast Independent Living Program, Inc - 35 John St, 2nd Floor - 978-687-4288
Trauma and Family Integration - 144 Merrimack St, Ste # 302 - 978-677-7823
Vinfen - 40 Church St - 978-674-6744

Lynn, MA


Centerboard - 16 City Hall Square - 781-598-9153
Department of Children and Families - Lynn - 330 Lynnway, Suite 201 - 781-477-1600
Department of Mental Health - 330 Lynnway Suite 201 - 781-477-2070
Lynn Community Health Center - 269 Union St - 781-581-3900
Lynn Economic Opportunity - 156 Broad St - 781-309-5543 ext 443
Lynn Housing Authority & Neighborhood Development - 10 Church Street - 781-581-8609
The Salvation Army - Lynn - 1 Franklin St - 781-598-0673

Marlborough, MA


Advocates, Inc. - 340 Maple St - 340 Maple st. - 508-485-9300
Advocates, Inc. - 509 Lincoln - 509 Lincoln St. - 774-279-4131
Advocates, Inc. - Community Crisis Stabilization - 28 Mill St. Central - 508-786-1580
Advocates, Inc. - Front Street - 20 Front St - 508-782-0296
BayPath Elder Services, Inc. - 33 Boston Post Road West - 508-573-7200
Board of Health - 140 Main st - 508-460-3751
Employment Options, Inc. - 82 Brigham Street - 508-485-5051
Family Success Partnership - 57 Orchard St - 508-481-3611
First Concern Pregnancy Resource Center - 91 Main St - 508-305-2493
Hudson/Marlborough Birthright - 277 Main Street, 3rd floor - 508-481-2055
Human Services Office/ SMOC - 255 Main St., Room 113 - 508-460-3758
Marlborough Community Cupboard - 255 Main Street, Room 113 - 508-481-4080
Marlborough Community Development Authority - 250 Main St - 508-624-6908
Marlborough Council on Aging - 250 Main Street - 508-485-6492
Marlborough Public Schools - Wrap-Around Services Coordinators - 239 Concord Rd, 25 Union St - 508-460-3509 ext 13836
Marlborough Veterans' Services - 255 Main St - 508-460-3782
MCDC - 40 Mechanic St, Suite 300 - 508-658-0880
Metrowest Homecare - 200 Nickerson Rd, Suite 100 - 508-383-7000
Roland's House - 57 Mechanic Street - 508-481-7847
SMOC - BHS Marlborough - 230 Maple St, 1st Floor - 508-480-0092 ext 22
SMOC - Family Child Care - 165 Forest St - 508-481-6985 ext 119
SMOC - Scattered Side Projects - Marlborough - 57 Mechanic St - 508-857-8509
St. Vincent de Paul Society - Immaculate Conception - 17 Washington Court - 978-763-0578
St. Vincent de Paul Society - St. Matthias - 409 Hemenway St - 978-493-3037
The Addiction Referral Center - 33 Main St - 508-485-4357
The Recovery Connection - 31 Main Street - 508-485-0298
Thom Childhood & Family Services - Marlborough - 340 Maple St. - 508-624-0304
Thrive Support & Advocacy - 65 Boston Post Road West, Suite 220 - 508-485-4227
Veteran Support Alliance Corp. - 197 Boston Post Road West, #136 - 508-808-4836

Marshfield, MA


Marshfield Veterans' Services - 870 Moraine St. - 781-834-5576

Mattapan, MA


Harbor Health Services - 1135 Morton St - 614-533-2400

Maynard, MA


Maynard Housing Authority - 15 Powder Mill Cir - 978-897-8738
Open Table - 33 Main St, Concord, MA - 978-369-2275
St. Vincent de Paul Society - Maynard - 1 Percival Street - 978-443-2647

Medford, MA


American Red Cross of Massachusetts - 101 Station Landing, Suite 510 - 800-564-1234
Medford Housing Authority - 121 Riverside Avenue - 781-396-7200

Medway, MA


SMOC - Medway House Family Shelter - 17 Holliston St - 508-533-1487

Melrose, MA


Melrose Council on Aging - 235 W Foster St - 781-665-4304
Melrose Veteran Services - 562 Main Street - 781-979-4186
Neuro-Rehab Management - 171 Tremont Street - 781-979-0018

Mendon, MA


Mendon Council on Aging - 62 Providence St - 508-478-6175

Middleton, MA


Massachusetts Care Coordination Network- Middleton - 261 N Main St - 978-560-5686

Milford, MA


Department of Developmental Services - Milford - 194 West Street - 508-634-3345
Healthy Families - 409 Fortune Blvd, Suite 203 - 617-727-8957
Milford Department of Veterans Services - 52 Main Street, Town Hall - 508-634-2311
Milford Housing Authority - 45 Birmingham Court - 508-473-9521
Riverside Community Care - 14 Asylum St - 508-488-2200
The Gan Rivkah Center - 16 Cedar Street - 508-838-6151
Vital Impact Chaplaincy Pastoral Ministries Inc. - 204A Main St. -
W.I.C - 114 Water St - 508-634-8012
Wayside Youth and Family Support Network - Milford - 10 Asylum Street - 508-478-6888

Millbury, MA


Spectrum Health Systems - 50 Howe Ave, Building M - 508-917-6811
St. Vincent de Paul Society - Millbury - 59 Main Street -

Natick, MA


Eliot Center for Health and Rehab - 168 West Central St - 508-655-1000
Family Promise Metrowest - 6 Mulligan St - 508-231-4328
Natick Housing Authority - 4 Cottage Street - 508-653-2971
Natick Service Council, Inc. - 2 Webster Street - 508-655-1791
Town of Natick, Human Services - 117 E Central St - 508-647-6540

Needham, MA


Charles River Center - 59 East Militia Heights Dr. - 781-972-1000
Needham Housing Authority - 28 Captain Robert Cook Drive - 781-444-3011
Riverside Community Care - Needham - 237 Highland Ave. - 617-631-4759
Steward Health Care Network - 89 A St #100 - 781-493-7900
Steward Health Choice - 89 A St - 781-247-9986

New Bedford, MA


Brandon Woods of New Bedford - 397 County St - 508-997-9396 ext 3100
City of New Bedford Veterans' Services - 181 Hillman Street, Building #3 - 508-991-6184
Kennedy Donovan Center - 385 County St - 774-206-8866
SEMCOA (High Point) Harbour House Family Center - 713 Shawmut Ave - 508-992-6027 ext 2206
Seven Hills Behavioral Health - 589 South First Street - 508-755-2340
Steppingstone Inc. - 5 Dover St - 508-674-2788
The Salvation Army - New Bedford - 619 Purchase St - 508-997-6561 ext 1003
Veterans Transition House - 1297 Purchase St - 508-992-5313 ext 4

Newburyport, MA


Housing Support Inc. - 12 Pleasant St, Suit 3 - 978-255-4792
ROOF Over Head - PO Box 1573 - 978-961-1555

Newton, MA


City of Newton - Social Services, 1000 Commonwealth Ave - 617-796-1282
St. Vincent de Paul Society - Our Ladys Newton - 573 Washington St - 617-527-7560
The Second Step Inc - 288 Walnut St - 617-765-3999

Newtonville, MA


Newton Senior Center - 345 Walnut St - 617-796-1660

Norfolk, MA


Norfolk Housing Authority - 33 Rockwood Rd - 508-528-4800

Northampton, MA


Center for Human Developement Grace House - 143 West Street - 413-586-8212

Northborough, MA


Central Massachusetts Veterans' District - 63 Main Street - 774-551-5782
Friends of Families in Transition - 23 Main St - 508-393-4333
New Beginnings - 6 Maple St, Suite 102 - 508-735-5374
Northborough Family & Youth Services - 63 Main Street - 508-393-5020
Tricord Transitional Housing - 38 Main St - 508-439-2022

Norwood, MA


Veterans Services - Norwood - 566 Washington Street - 781-762-1240

Orange, MA


King Pine Apartments - 419 E River St - 978-544-7433

Peabody, MA


Citizens for Adequate Housing - 42 Washington Street - 978-531-9951
Citizens Inn - 40 Washington St - 978-531-9775

Pepperell, MA


PACH(Pepperell Aid from Community to Home) Outreach - 66 Hollis St - 978-925-9770

Pittsfield, MA


18 Degrees - 480 West St - 413-442-5333
Pittsfield Emergency Shelter - 141 North St, Suite 109 - 413-320-6550

Quincy, MA


DOVE - Quincy - 617-770-4065 ext 305
Father Bill's & Mainspring - Quincy - 38 Broad Street - 617-770-3314
Quincy Family Resource Center - 1120 Hancock St - 617-481-7227
South Shore Mental Health - 460 Quincy Ave - 617-847-1950
Volunteers of America - 1419 Hancock St, Suite 202 - 617-770-9690

Randolph, MA


May Institute, Inc - 14 Pacella Park Dr - 781-440-0400
Safe Space Therapeutic Services - 10 Mazzeo Dr, #206 - 781-269-2474

Roslindale, MA


FamilyAid Boston - 3815 Washington St - 617-542-7286
Trinity Management - 4560 Washington St - 781-985-3069 ext 53069

Roxbury, MA


Children's Services of Roxbury - 504 Dudley Street 1st floor - 617-989-9610
Department of Children and Families - Roxbury - 30 Dimock Street - 617-989-2800
Elizabeth Stone House - 8 Notre Dame Street - 617-427-9801
Horizons for Homeless Children - 1705 Columbus Avenue, 1705 Columbus Avenue - 617-553-5455
Project Hope - 550 Dudley Street - 617-442-1880
Roxbury Youthworks Inc. - 841 Parker St - 617-427-8095
Smart from the Start Inc - 68 Annunciation Rd - 857-308-3000

Rutland, MA


Rutland Council on Aging - 250 Main St - 508-886-7845

Salem, MA


Disability Resource Center, Inc. - 27 Congress St, Suite 107 - 978-741-0077 ext 100
HAWC - 27 Congress St #204 - 978-744-2299
The Department of Children and Families- Salem - 45 Congress St, Suite 145 Bldg 4 - 978-825-3800

Shirley, MA


Community Resources for Justice - 2 Shaker Rd, Phoenix Park D221 - 978-425-0772 ext 2713

Shrewsbury, MA


Ansaar of Worcester - 334 Boston Turnpike - 508-801-6842
Independence Hall - 59 South St - 508-845-6176 ext 2027
Shrewsbury Youth & Family Services, Inc. - 240 Maple Ave - 508-845-6932

Somerville, MA


Cambridge Health Alliance - 26 Central St - 617-665-3220
Department of Developmental Services - Somerville - 255 Elm Street, Suite 205 - 617-623-5950
Just-A-Start-House - 114 Temple St - 617-776-8353
Office of Housing Stability Somerville - 50 Evergreen Ave - 617-625-6600 ext 2581
Respond, Inc. - P.O. Box 555 - 617-625-5996
Riverside Community Care - 12 Tyler St - 617-629-3919
Somerville Homeless Coalition - 1 Davis Square - 617-623-6111
Somerville Housing Authority - 30 Memorial Rd - 617-625-1152 ext 323
The Home for Little Wanderers - 11 Ward St - 617-469-8500

Southborough, MA


Pilgrim Church - 15 Commons Street - 508-485-4847
Southborough Food Pantry - 15 Common St., PO Box 281 - 508-380-0101
Southborough Youth and Family Services - 21 Highland St - 508-481-5676
Unique Homecare Services - 164 Cordaville Rd - 781-266-7429
VNA Care - 333 Turnpike Rd - 508-786-1525

Southbridge, MA


Family Resource Center of YOU Inc - 328 Main St - 508-765-9101
Open Sky Community Services - 39 Elm St, Suite 201 - 774-314-5199 ext -

Springfield, MA


Baystate Family Advocacy Center - 50 Maple Street 3rd Floor - 413-794-4869
Center for Human Development DSH - 184 Mill St - 413-316-1470
Center for Human Development Early Intervention - 342 Birnie Ave - 413-739-3954
HAP/Prospect House - 103 Prospect Street - 413-737-5518
HAP/RRCII Woodside - 40-44 Woodside Terrace -
Mental Health Association, Inc. - 995 Worthington St - 413-734-5376
Pathways - 511 East Columbus Ave - 413-827-8959
River Valley Counseling(Low Threshold Grant) - 120 Maple St #301, Springfield - 413-737-2437 ext 2422
South Bay Community Services - 140 High St #230 - 413-495-1500
Sunrise Behavioral Health Clinic - 95 Frank B Murray St - 413-285-8586
Way Finders - 322 Main Street, Housing Consumer Education Cent. - 413-233-1600

Stoneham, MA


Solutions for Living - 92 Montvale Ave #2950 - 781-306-1180
Stoneham Veterans Services - 136 Elm Street - 781-279-2664

Stoughton, MA


Abelard Psychotherapy and Associates - 450 Pearl St - 781-344-0057

Stow, MA


Stow Council on Aging - 509 Great Rd - 978-897-1880
stow veterans services - 509 Great Rd - 978-290-0278

Sudbury, MA


Gifts Of Hope Unlimited - 40 Tall Pine Dr, Unit 11 - 978-579-0974
St. Vincent de Paul Society - St. Anselm - 100 Landham Road - 857-205-3191
St. Vincent's dePaul, Our Lady of Fatima Sudbury - 160 Concord Rd - 978-443-6264
Sudbury Council On Aging - 40 Fairbank Rd - 978-443-3055
Sudbury Health Department - 275 Old Lancaster Rd - 978-440-5476
Sudbury Housing Authority - 55 Hudson Rd - 978-443-5112
Sudbury Public Schools - 40 Fairbank Road - 978-639-3208
Sudbury Senior Center - 40 Fairbank Road - 978-443-3055

Taunton, MA


CCBC - 1 Washington St - 508-828-9116
Department of Children and Families - 1 Washington St #21 - 508-821-7000
Enable Inc First Steps for Families - 100 Myles Standish Blvd - 508-223-3331 ext 1
SFS Taunton Family Center - 74 Winthrop St - 508-738-5142
Volunteers of America - 5 Post Office Square - 508-822-4027

Tewksbury, MA


For Families - 365 East St -

Turners Falls, MA


HRA-HCEC Deot - 42 Canal Road - 413-863-9781
Recovery Support Specialist - 108 J St. - 413-387-9664

Wakefield, MA


Metro North DCF - 178 Albion St - 781-388-7100

Walpole, MA


Summit community Services - 869 Main St, Suite 6B - 508-794-5188

Waltham, MA


Communities United, Inc. - 169 Elm St - 781-647-0542
Department of Developmental Services - Waltam - 465 Waverley Oaks Road - 781-314-7500
Jewish Family & Children's Service - 1430 Main Street - 781-647-5327
Key Program, Children's Charter Division - 77 Rumford Avenue - 781-894-4307
Middlesex Human Service Agency, Inc - Waltham - 50 Prospect Street - 781-894-6110
One Family Inc. - 800 South St, Suite 610 - 617-423-0504
Reach Beyond Domestic Violence - - 781-891-0724
Rediscovery at Justice Resource Institute - 296 Newton Street, Suite 150 - 781-443-4942
Thom Charles River Early Intervention - 465 Waverley Oaks Rd - 781-894-6564
Waltham Family Medicine - 9 Hope Ave - 781-788-8444
Waltham Public Schools - 617 Lexington St - 781-314-5425
WATCH CDC - 24 Crescent St Suite #201 - 781-891-6689 ext 203

Wareham, MA


Habit Opco - 3088 A Cranberry Hwy - 508-295-7990

Watertown, MA


Tufts Health Plan - 05 Mount Auburn Street - 617-972-9400
Watertown Housing Authority - 55 Waverley Ave - 617-923-3950
Watertown Social Services Resource Specialist - Wayside - 127 N. Beacon St. - 617-744-9585

Wayland, MA


Metrowest Eldercare Management - 12 Mansion Rd - 508-545-2089
Wayland Housing Authority - 106 Main Street - 508-655-6310 ext 1

Webster, MA


Opening The Word Recovery Center - 174 N Main St - 774-330-5920

Wellesley, MA


Healthcare Without Walls - 148 Linden St - 781-239-0290
Wellesley Public Schools - 27 Cedar St - 781-446-6280

West Boylston, MA


Ansaar of Worcester - 26 Shrewsbury St - 508-556-9946
Mass Department of Public Health - 180 Beaman Street - 508-792-7880

Westborough, MA


Advocates, Inc. - Milk Street Program - 190 Milk Street - 509-870-9850
DMH Case Management - 167 Lyman St - 508-616-2808
Forbes Kirkside Foundation - 150 E Main St - 508-366-5719
Reliant Medical Group - Westboro - 106 East Main Street - 508-871-0794
St Stephen's Episcopal Church - 3 John St - 508-366-4234
St. Luke's Church - 1 Ruggles St - 508-366-8509
The F8 Foundation - Box 185 -
Westborough Housing Authority - 2 Rogers Rd - 508-366-1225
Westborough Senior Center - 4 Rogers Road - 508-366-3000
Westborough Youth and Family Services - 34 West Main Street - 508-366-3090

Westford, MA


St. Vincent de Paul Society - St Catherines - 107 N Main St - 978-693-6353
Westford Housing Authority - 65 Tadmuck Road - 978-692-6011

Weston, MA


Weston Council on Aging - 20 Alphabet Ln - 781-786-6286

Weymouth, MA


Weymouth Housing Authority - 402 Essex St - 781-331-2323 ext 114

Whitinsville, MA


Department of Children and Families - Whitinsville - 185 Church Street - 508-929-1000
Family Continuity - 76 church street - 508-234-4181

Winchester, MA


En Ka Society - 6 Lawson Rd - 617-943-7808

Woburn, MA


Pediatric Physician Organization at Boston Children's Hospital - 100 Tradecenter Dr G700 - 781-569-5135

Worcester, MA


Advocates, Inc. - Channing House - 21 Catharine St - 508-755-8088
Aids Project Worcester - 85 Green St - 508-755-3773
Ascentria Care Alliance - 11 shattuck street - 774-243-3900
Catholic Charities - Youville House - 133 Granite Street - 508-860-2245
Central Community Health Partnership - 30 Tyler Prentice Rd - 508-388-5099
Centro, Inc. - 11 Sycamore st - 508-798-1900 ext 260
Children's Friend, Inc - 21 Cedar St - 508-753-5425
City of Worcester - Veterans Service Dept - 455 Main St, Room 108 - 508-799-1041
Cityblock Health - 100 Grove St, suite 115 - 617-513-5607
Commonwealth Community Cares - 100 North Parkway - 508-250-0770
Community Healthlink - 162 Chandler - 162 Chandler St - 508-860-1000
Community Healthlink - 355 Chandler - 355 Chandler St - 857-406-0229
Community Healthlink - HOAP - 162 Chandler Street - 774-312-2417
Department of Children and Families - Worcester - 121 Providence Street - 508-929-2122
Department of Developmental Disabilities - Worcester - 324 Clark St - 508-792-6200
Department of Mental Health - 361 Plantation St - 774-420-3100
Department Of Youth Services - 30 Tyler Prentice Rd - 508-757-5499
Dept. of Veterans Affairs HUD/VASH, Worcester - 605 Lincoln Street - 413-584-4040
Dress for Success Worcester - 484 Main Street, Suite 110 - 508-796-5660
Easter Seals Veterans Services - 484 Main St - 508-751-6312
Edward M. Kennedy Community Health Center - 19 Tacoma St - 508-852-1805
Elara Caring - 85 Prescott St, Suite 102 - 508-754-5513
Elder Services of Worcester Area, Inc. - 67 Millbrook Street, Suite 100 - 508-756-1545
Everyday Miracles - 25 Pleasant St - 508-799-6221
Fallon Health - 10 Chestnut St - 800-333-2535
Family Continuity - 23 Mountain St W - 508-755-0556
Family Health Center of Worcester - 126 Queen St - 508-860-7700
Family Health Center of Worcester - HOAP - 162 Chandler St - 508-860-1080
Friendly House Scattered Sites - 5 Rugby St, Suite 2 - 508-749-3346
Friendly House Shelter - 87 Elm St - 508-792-1799
Gavin Foundation- ATR Program - 101 Pleasant St, Suite 101 - 508-459-9645
Genesis Club, Inc. - 274 Lincoln St - 508-831-0100
Greater Worcester Housing Connection - 237 Chandler St - 508-757-0103
INDEX Program - 55 N Lake Ave - 774-455-4003
Interfaith Hospitality Network - 91 June St - 508-755-2212
Kiva Centers - 209 Shrewsbury St - 774-289-3759
Legendary Legacies Inc - 46 Greenwood St - 508-615-8060
Living In Freedom Together Inc - - 774-243-6025
LUK Inc Crisis Center - 40 Southbridge st suite 400 - 508-762-3000
Medical Resources Home Health - 85 Prescott St - 508-873-0173
Muslim Community Link - 9 Castle Street, Suite 2 - 508-579-5684
NEBA - 40 Southbridge St - 508-904-5688
New Beginnings Wellness Center - 1280 Main St - 508-754-1141
Parent professional Advocacy League - 40 Southbridge st., Suite 310 - 508-767-9725
RCAP Solutions - 91 May Street - 978-630-6795
Refugee & Immigrant Assistance Center - 316 Main St #602 - 508-756-7557
Reliant Medical Group - Worcester - 100 Front Street - 508-368-5400
Seven Hills Family Services - Worcester - 799 West Boylston St, Suite 130 - 508-796-1850
South Bay Community Services - 340 Main St #818 - 508-791-4976
South Bay Community Services-Early Childhood - 548 Park Ave, Suite B - 774-823-1500
Spectrum Health Systems - 585 Lincoln Street - 508-854-3320
St. Vincent de Paul Society - Blessed Sacrament - 551 Pleasant St - 508-755-5291
Straight Ahead Ministries - 791 Main St, Worcester - 508-753-8700
Sunrise Behavioral Health Clinic - 255 Park Ave #500 - 508-304-7397
The Bridge of Central MA - Mann St - 4 Mann Street - 508-755-0333
The MENTOR Network - 108 GROVE ST., Suite 307 - 508-368-2756
The Salvation Army ARC of Worcester - 72 Cambridge St - 508-799-0528
Thom Worcester Early Intervention - 239 Mill St - 508-752-8466
Thrive Support & Advocacy - 100 Grove St #104 - 774-703-3033 ext 3058
UMass ACO Care Management - 67 Millbrook St, 3rd floor - 508-334-9195
UMASS Memorial Health Center - 119 Belmont St - 508-801-7979
Veteran's Affairs - Worcester - 605 Lincoln Street - 413-584-4040
Veterans, Inc. - 69 Grove Street - 508-791-1213
Visitation House - 119 Endicott St - 508-798-8002
Worcester Alliance for Refugee Ministry WARM Inc. - 474 Grove St #710 - 774-701-0081
Worcester Common Ground - 5 Piedmont Street - 508-754-0908
Worcester Community Housing Resources - 11 Pleasant Street, Suite 300 - 508-459-6368
Worcester County DA' s Office Victim/Witness Assistance Progra - 225 Main St RM 301G - 508-755-8601 ext 7234
Worcester County Sheriff's Office Regional Reentry Center - 340 Main St #202 - 508-752-1212 ext 2915
Worcester Head Start - 337 Mill St - 508-799-3255
Worcester Housing Authority - 34 Great Brook Valley Ave - 508-635-3145
Worcester Refugee Assistance Project (WRAP) - Worcester - 508-320-5819
Worcester Rehab and Health Care Center - 119 Providence St - 508-860-5000
Worcester Vet Center - 255 Park Ave #900 - 508-753-7902
You INC. - 70 James St - 855-496-8462
YWCA Central Massachusetts - 1 Salem St - 508-767-2505 ext 3009